Priests of the Ranganatha Temple are committed to providing you with the best possible service with utmost sincerity, devotion and zeal with strict reverence to the Vaishnava sampradaya. Their sublime devotion rich with religious fervor, Vedic knowledge and their deep relish for our traditions, adds to the holy ambience (Sannidhyam) of the temple, engrossing devotees in spirituality and delight.
Srinivasa Raghavan Paravasthu (Chief Priest)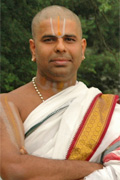 Srinivasa Raghavan Paravasthu serves as the chief priest of our temple. He is serving the temple since May 2007. He originally hails from Hyderabad and he has been extensively trained in Pancharathma Agama Sastras from his father Shri: Venkatanathachariar and his Uncle Shri: Ramanujacharyar. He is well renowned for his knowledge in Pancharathma Agamam and he is a connoisseur when it comes to leading the conduct of all temple Uthsavams. With a clear diction, he is also very eloquent in the recitation of prabandhams (of azhwars) and stothras of Shri. Vedanta Desikan. He is an erudite scholar with vast knowledge in the field of Vaishnavism. Prior to joining Sri Ranganatha Temple in May 2007, he gathered over 20 years of extensive experience serving the Ahobila Mutt Ramar temple in Dornakal. He is a sishya of Sri Ahobila Mutt and performed Saranagathi to Sriman Narayana, through his acharya, the 45th Jeer of Sri Ahobila Mutt. He is an expert in performing all shubakaryam and ceremonies. He is well versed in Sanskrit and also fluent in Telugu, Tamil, Hindi and English. He and his wife are blessed with two sons and a daughter.
P2
P3