The temple is situated in the scenic hudson valley amid picturesque lakes and mountains. If you came driving along the Palisades Interstate Parkway to the temple, you would have already realized how beuatiful and scenic the area is! There is nature abound in the area which is such a blessing.
Make your trip to the temple memorable and enjoyable! Here are some attractions near the temple: Perkins Memorial Drive, Woodbury Factory outlets, Seven Lakes Drive, Hook Mountain/Nyack State Park
Perkins Tower/Observatory – Perkins Memorial Drive - Scenic and stunning views of Hudson Valley and Bear Mountain
Distance from Temple: 14 miles North of Temple
Approx Driving time: 22 min
The Perkins Memorial Drive is a scenic road to the summit of Bear Mountain. At the summit, the 40 feet (12 m) Perkins Memorial Tower provides a view of four states. If you are travelling with your family including infants or elders and have concerns, please note that there is no walking or hiking required. You drive up till the summit of the mountain and the tower in your car.
Once at the top, you are rewarded with spectacular panoramic views in the lower half of the Hudson Valley, Hudson river and bear mountain. Appreciating the gorgeous scenery and traquility of the mountain landscape, you can spend some good time at the summit. A trip at any time of the year to the tower is rewarding, but the views are especially breathtaking in autumn (Mid to late October) when the entire valley is bustling with pleathora of bright colors.
Reaching there: On your GPS you can key in Perkins Memorial Observatory, Perkins Memorial Drive, New York 10980. Simple directions – From the temple take Palisades Parkway North; On Palisades Interstate Parkway take Exit-19 towards Perkins Memorial Dr/Bear Mountain Park and drive on; Take sharp left onto Perkin Memorial drive (there is a sign board); then drive all the way to the top of the mountain. Click on the Map below for driving directions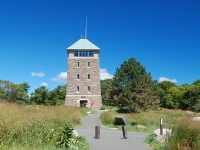 Perkins Tower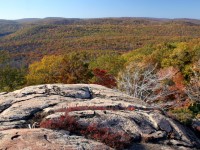 View of Hudson Valley from Summit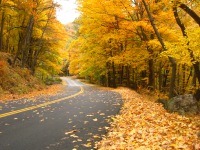 Perkins Memorial Drive in Fall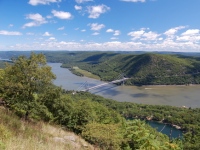 View of Bear mountain Bridge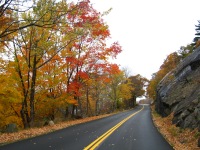 Drive up the mountain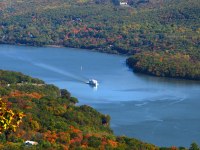 View of Hudson River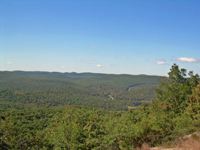 View of lush hudson valley
---
Woodbury Common Premium Outlets - Shopping outlet Center. Woodbury Outlet Store Website
Address: 498 Red Apple Court, Central Valley, NY 10917. Phone: (845) 928-4000.
Distance from Temple: 9 miles North-West of Temple.
Woodbury Common Premium Outlets is an outlet center located in Central Valley, New York. The center has about 220 stores and it is one of the largest contiguous outlet centers.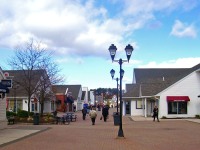 Woodbury factory outlet stores
Woodbury factory outlet stores
---
Hook Mountain - Nyack Beach State Park - Scenic views of Hudson River
Address: Hook Mountain State Park, Valley Cottage, NY.
Distance from Temple: 15 miles South-East of Temple.
Approx Driving time: 30 min
Hook Mountain State Park is part of the Palisades Interstate Park system. Hook Mountain is the site of a 676-acre undeveloped park stretching through almost seven miles of waterfront and cliff slopes. At 730 feet, its summit offers spectacular views of Rockland Lake and the Hudson River valley. It is also a prime location for watching various types of hawks: sharp-shinned, Cooper's, Northern Goshawks, Red-shouldered, Broad-winged, Red-tailed. The Audubon Society estimates that an average of more than 12,000 hawks fly by Hook Mountain each Fall.
Hook Mountain/Nyack Beach Bikeway (as indicated in the map on the right) is a very scenic trail along the Hudson River in Rockland County. The southern half of this trail is flat and runs right along the river at sea level. The northern half of the trail is hilly, narrow and quite rocky. It runs along the cliffs and should only be ridden by experienced bicyclists riding bikes in good condition. Great views of the Hudson River and Palisades Cliffs rock formations are available from either trail segment.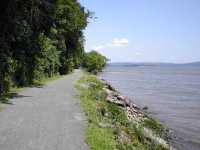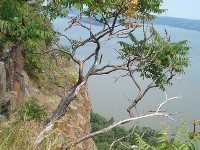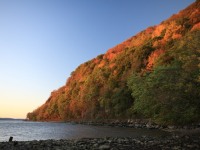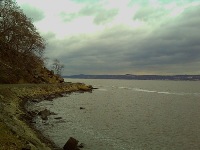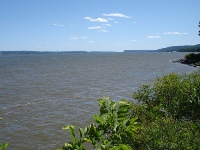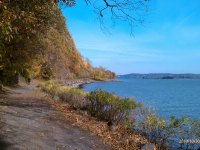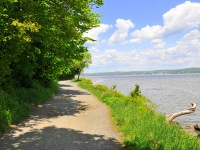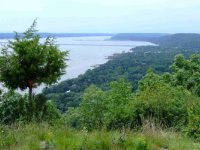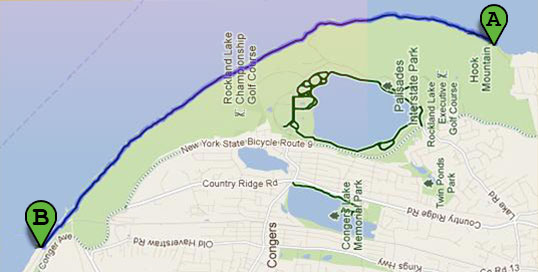 ---
Comments / Inputs or feedback regarding this page, mail to badrinj@gmail.com